Darrell W. Harrison Hall of Natural Sciences
Darrell W. Harrison Hall of Natural Sciences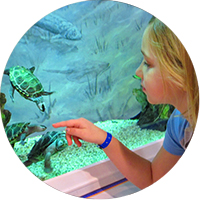 As part of Greenville County Schools, Harrison Hall is open to the public only during special events.
The Natural Science Department of Roper Mountain Science Center occupies most of the Darrell W. Harrison Hall of Natural Sciences. Studies in life science, microscopy, geology, environmental studies, ecology and marine science enrich the lives of the students and visitors who explore this building.
Immediately upon entering the building, visitors see the Fred W. Symmes Tropical Rainforest Conservatory through a wall of windows along the hallway. Next door is the Nancy Hall Eskew Rainforest Lab.
A little farther down the hall, a life-sized painting (17 feet tall) of a giant ground sloth, which lived in South Carolina in prehistoric times, greets visitors at the Daniel Keating Norris Discovery Room entrance. The Discovery Rooms exhibit reptiles, amphibians, and birds. At the end of the hallway is the Palentology Lab and the Earth Science Lab which houses and displays the centers rock, mineral, and fossil collections. The Computer Lab occupies the next classroom with a robotics lab and a full array of PC laptops. An Ecology Lab and Marine Lab, opened in January of 2007, offer our visitors insight into the fascinating world of fresh and salt water environments. Many thanks to GE Energy for being an initial sponsor for both labs and continuing to provide funding for the operation of the Marine Lab.
---
---