Roper Mountain Science Center Home School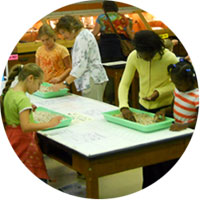 A day of instructor-led lessons and demonstrations for Individual Families, Co-Ops, and Home School Associations.
Roper Mountain's Home School Discovery Day is an opportunity for individual families, co-ops, and home school associations to experience instructor-led lessons and demonstrations in our nationally recognized learning labs.


---
Home School Nature Programs

Join us on the 3rd Wednesday of each month, 2-3:30 pm, for some exciting hands-on nature experiences. Nature themes change each month and are for ages 6-11. Children must be accompanied by a parent or guardian. Registration is non-refundable as the program goes on rain or shine. Must register at least two days prior to the event. Cost: $10 per child

September 18, 2019
Reptiles Alive!






October 16, 2019
Owl Pellet Dissection






November 20, 2019
Fall Color Hike (Tree ID)






December 18, 2019
Marine Marvels


---
Guidelines for Scheduling Educator's Directory Lessons
Individual home schools must request a visit as a class through the home school association of which they are members. Home school association classes must have a minimum of 12 students and no more than 27 students, plus a teacher and an appropriate number of chaperones. The home school association's teacher is responsible for coordinating the field trip and supervision of all students. Students must be grade appropriate to the lessons being requested. Requests are subject to the deadline listed in the Educator's Guide. The center cannot accept requests from individual home school parents, nor can we be responsible for organizing a class made up of home school students. Home schools who are members of associations outside of Greenville County will be charged the lesson costs. According to our safety plan, all persons attending a lesson must wear nametags.
---
---