Roper Mountain Science Center Home School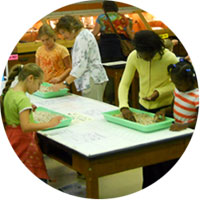 A day of instructor-led lessons and demonstrations for Individual Families, Co-Ops, and Home School Associations.
Roper Mountain's Home School Discovery Day is an opportunity for individual families, co-ops, and home school associations to experience instructor-led lessons and demonstrations in our nationally recognized learning labs.

Discovery Days are held three times each year during the Fall, Winter, and Spring. The Fall Discovery Day features lessons in social studies and natural science, while the Winter Discovery Day focuses on engineering, technology and astronomy. In the Spring, the entire Mountain becomes a showcase of experiences across all content areas using all of our learning spaces.

Here's a sampling of more than 40 mini lessons and demonstrations that may be offered:
Discover the wonders of the universe in the newly renovated Planetarium (opening February 2017)
Explore the Rainforest Habitat to discover poison dart frogs and other creatures
Observe solar activity through our giant telescope in the Observatory
Program LEGO robots to accomplish tasks on Mars
Drive Sphero and Ollie robots through a series of unique challenges
Journey back in time on the Living History Farm and Gardens
Experience a typical 1900′s School Day in the One Room Schoolhouse
Meet the barn animals and feed the chickens
Capture insects in the Gardens with our naturalist
Handle live ocean creatures in the Marine Lab
Become a forensics detective as you learn blood-typing and DNA analysis
Get up close and personal with a variety of creatures in our Discovery Rooms
Dissect an owl pellet to reveal clues about its habitat and diet
Dig for fossils in our Paleo Lab as you learn how about ancient life
Design and test butterfly wings in the Design Lab wind tunnels
….and much, much, more!
---
Home School Natural Discovery Day
---
Guidelines for Scheduling Educator's Directory Lessons
Individual home schools must request a visit as a class through the home school association of which they are members. Home school association classes must have a minimum of 12 students and no more than 27 students, plus a teacher and an appropriate number of chaperones. The home school association's teacher is responsible for coordinating the field trip and supervision of all students. Students must be grade appropriate to the lessons being requested. Requests are subject to the deadline listed in the Educator's Guide. The center cannot accept requests from individual home school parents, nor can we be responsible for organizing a class made up of home school students. Home schools who are members of associations outside of Greenville County will be charged the lesson costs. According to our safety plan, all persons attending a lesson must wear nametags.
---
---