T. C. Hooper Planetarium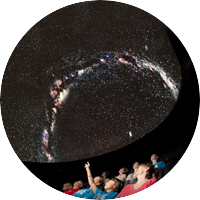 Visit the Planetarium during our Friday Starry Nights programs. Click here for more details.
Opening in 1989, the planetarium was named for T.C. Hooper who was instrumental for the early fund raising of monies for many of the facilities now at Roper Mountain, including the planetarium.
The Hooper Planetarium features a Spitz SciDome HD. Visitors will enjoy full-dome, full-color, full-video, surround sound and dynamic programs. Programming includes entertaining, inspiring, and educational classes in astronomy and other sciences for students and the public.
The public can come to the planetarium during the Friday Starry Nights program and on 2nd Saturdays. The schedule on Friday nights includes Carolina Skies (a live sky talk), the feature show, and the ever popular Mars Rollercoaster.
What's playing in the Hooper Planetarium on Friday Starry Nights…
---
---