Scouting Programs
Public Programs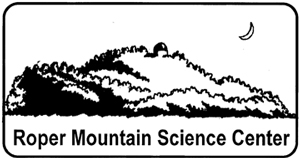 Patch Programs and Group Programs available for Cubs & Boy Scouts at Roper Mountain Science Center. Click on the links for requirements for the RMSC Second Saturday Patch Program. 
---
Cub Scout:
Roper Mountain is only open select Second Saturday hours with gate admission
The Patch Program is self-guided
No reservations needed
See patch links above for actual patch requirements
Patches can be purchased at the Boy Scout Service Center
---
Webelos Activity Badge Workshops:
Fulfill requirements for Into the Wild, Into the Woods, and Earth Rocks. Click on the link below for dates, times, and registration details for these workshops.
Webelos Activity Badge Workshops
Into the Wild: October 14, November 11, March 9, and April 6
Into the Woods: October 21, November 18, March 16, and May 4
Earth Rocks: December 9, January 13, and February 10
---
Girl Scouts:
Stay tuned for exciting upcoming events.
If your troop would like to schedule troop level programming please contact Jasmin Poor at jpoor@greenville.k12.sc.us to determine availability.

PAST EVENTS

Animal Habitats
Roper Mountain has your animal habitat badge requirements covered. Plan an afternoon with us to walk around our natural trails and experience our touch tanks as we cover the requirements for the animal habitat badge. This offering is available for troops to book on weekdays between the hours of 3:00 and 5:00pm. To book a program please contact jpoor@greenville.k12.sc.us.

Robotics Afternoon
We invite you to join us for a fun afternoon of robotic coding. The girls will be coding robots and sharing their designs. This will support with completing a portion of the Robotics Badges. The girls will be given a sheet with resources to complete the other portions during our Stem Fest on February 9th. This is a first come first serve limited space event. Chaperones are welcome to stay but space will be limited.
Who: Junior Girl Scouts (4th and 5th grade)
When: January 22nd at 3:30-5:30pm OR January 29th at 3:30-5:30
Where: Symmes Hall Roper Mountain Science Center
Fee: $15/ girl
Materials: Junior Robotics Badge sheet for use at STEMFest





Girl Scout Engineering Day at Roper Mountain Science Center
Girl Scout Juniors are invited to work with female engineering professionals to learn about science and engineering. Girls will work on different science activities and perform experiments. Come experience hands-on engineering with professional engineers. This program is hosted by the Society of Women Engineers and the GE Women's Network of the Greenville Area.
Who: Junior Girl Scouts
When: March 16, 10:00am-1:00pm
Where: Symmes Hall of Science
Fee: $10 per girl and $5 per adult
Link to register: https://www.gssc-mm.org/en/events-repository/2019/girl_scout_engineeri.html

 
Space: Roper Mountain Under the Stars - Space Overnight
Gather your troop for an overnight of fun! Girl Scouts will have the mountain to ourselves! Girls will get to experience our planetarium and observatory while working towards their Space badges. Individually registered girls must bring an adult. Includes dinner, snack, and breakfast.
Who: Brownies and Juniors
When: May 18th 3:30pm - 9:00am
Fee: Girls $50 and Adults $30
See Mountains to Midlands website to sign up for the overnight.

---
---