Friday Starry Nights — Giant Dome Theater & Planetarium
Public Programs
Join us for a night under the stars! Begin in the 50' giant dome as we immerse you in a Full-dome movie with 360 degree views and dynamic surround sound.
7:00pm Feature Show: Magic Tree House Space Mission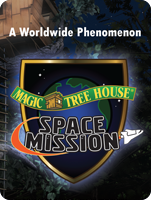 Friday Nights 7:00pm — 8:00pm
Viewers peek into the treehouse and follow Jack and Annie on an exciting adventure as they meet a helpful astronomer and an astronaut. As they travel to an observatory and beyond into space, Jack and Annie nearly get … well, we don't want to give the surprise away!

8:30pm Feature Show: Solar Superstorms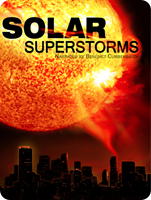 Friday Nights 8:30pm — 9:30pm
Solar Superstorms takes viewers into the tangle of magnetic fields and superhot plasma that vent the Sun's rage in dramatic flares, violent solar tornadoes, and the largest eruptions in the solar system: Coronal Mass Ejections.

Upstate's Sky Tonight: 15 minute pre-show included in each show time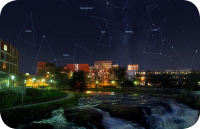 Learn what's happening in tonight's sky including: planets, constellations, moon phases and special celestial events. 15 minute pre-show included in each show time.
Download the Friday Starry Nights Poster
---
Order Tickets Online or at the Planetarium
We accept all major credit cards. Tickets are non-refundable.

$6.00 for Adults and Teens
$5.00 Children (ages 4-12)
$5.00 Senior Citizens (age 60 & over)
$5.00 Military
FREE Children age 3 and under - RMSC Members - GCS employees with pass
Members: When you go to purchase tickets you must be Signed In to receive your discounted rate! Simply click Sign In (or click Register to first create your web login) at the top of the page you are taken to after clicking on the "Click to Buy Tickets" button. Your discount will be reflected during checkout. Refunds will not be given if you forget to sign in.
A Ticket for Each Showtime Includes:
Feature Shows begining with Upstate's Sky Tonight: 7:00pm or 8:30pm
"Ice Slide" Ride
Viewing at the Daniel Observatory (weather permitting)
---
GIANT Dome Planetarium and Observatory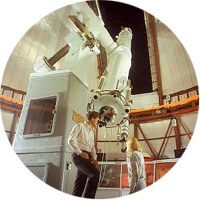 After the show, join our astronomer as we explore our "Carolina Skies" and learn how to spot planets, bright stars and constellations. Conclude your shows with the popular "Ice Slide" ride on Jupiter's moon, Europa. After the shows, join our Astronomers in the Daniel Observatory for a spectacular view through the 23 inch refractor telescope.
---
---