Summer Planetarium Shows (July-August)
Public Programs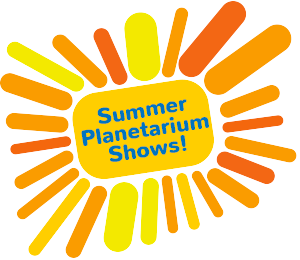 Cool off and enjoy our Planetarium with a 360° full immersion dome, 4K projection, state-of-the-art lighting, dynamic 5.1 surround sound and more! Show space is limited, pre-purchase is recommended.

---




Prices
$5.00 per Adult or Child, per program
FREE for RMSC Members
Tickets are non-transferrable and non-refundable.

Pre-purchasing recommended to reserve your spot.
---

Show Times
Click on show times and titles to pre-purchase tickets.

Show Descriptions
Astronaut
What does it take to become an astronaut? The exploration of space is the greatest endeavor that humankind has ever undertaken. Take part in this incredible journey!
Dynamic Earth
Explore the inner workings of the Earth's climate system as we explore the atmosphere, oceans and biosphere. Ride along swirling ocean and wind currents, dive into a monster hurricane and more as you experience our Dynamic Earth.
Habitat Earth
Enjoy stunning visualizations of both biological and human-built networks (and of how they intersect), taking show-goers on an incredible, immersive journey through the interconnectedness of life on Earth.
Little Star
Follow Little Star in his search for planets of his own to protect and warm. Along the way, he meets other stars and learns what makes each star special.
Magic Tree House Space Mission
Peek into the treehouse and follow Jack and Annie on an exciting adventure as they meet a helpful astronomer and an astronaut.
Oasis In Space
Journey with us on a startling and beautiful voyage through our universe, galaxy, and solar system in search of water and water worlds like Earth.
One World One Sky
Join Big Bird and Elmo as they explore the night sky. Together they take an imaginary trip from Sesame Street to the moon.
Perfect Little Planet
Imagine the ultimate space vacation! Discover our solar system through a set of new eyes – an animated family from another star system seeking the perfect vacation spot.
Tales of the Maya Skies
Immerse yourself into the Maya astronomy, art and culture through a custom score and visuals which inspires and educates.