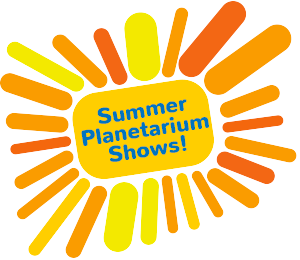 During June and July, we have special summer planetarium shows for groups. Each show features a thrilling full-immersion image on our 50-foot dome screen with surround sound and includes the popular Spacepark 360 Virtual Rollercoaster!
$5.00 per Adult or Child, per program
Tickets are non-transferrable and non-refundable.
We will only be accepting e-tickets. There will be no tickets sold on-site.
Limited Seating. Pre-purchasing required (3 days in advance of show).
Questions? Please contact Amy Buckmaster at 864-355-8967.
---
Show Descriptions
One World, One Sky
Elmo and Big Bird live in the United States and Hu Hu Zhu lives far away in China, but they discovered that they still see the same stars at night! The word for star in Chinese is "xīng xing" (pronounced sing sing). How many "xīng xing" do you see in this sky?
July 6, 7, 8, 9 at 1:00pm


Magic Globe
On vacation at her grandpa's, a little girl Mia accidentally discovers a mysterious piece of astronomical machinery. Edmund, Mia's eccentric uncle, tricks the girl into using the tool's secret powers to change the world's seasons. She realizes the consequences of what they are going to do, but Edmund doesn't want to let the plan go.
June 13, 14, 15, 16 at 1:00pm

The Great Undersea Adventure of Barney and Beenie

Two friends, Barney and Beenie, take care of the cleanliness of their lagoon. Many adventures await them, one of which is the rescue of a small turtle stuck in a plastic net. And at night, friends learn the constellations.
June 27, 28, 29, 30 at 1:00pm
Take Flight
Join uniquely-animated brothers Wilbur and Orville Wright for a full-throttle fulldome adventure through history and into the future of aeronautics! Learn about the four forces of flight — lift, weight, thrust and drag — with demonstrations by the Wright brothers and share observations and discoveries with Leonardo da Vinci as he creates his "flying machine." Along the way, you'll meet Bessie Coleman, the first woman of African American and Native American descent to earn an aviation pilot's license; break the sound barrier with Chuck Yeager; and take an exhilarating flight across the Atlantic Ocean with Amelia Earhart. Will you become a famous aviator? Take Flight could be your first step!
July 5, 6, 7 at 1:00pm


Magic Tree House: Space Mission
Travel with the brother-sister duo, Jack and Annie, in their Magic Tree House as they discover a note that asks them to answer a series of six questions about space. With the help of the astronomer, the Internet, an astronaut, books and the writer of the mysterious note, Jack and Annie are taken on a wondrous journey of adventure and learning. This exciting voyage will carry visitors to the planets and far out into the Universe where Jack and Annie nearly get… Well, we don't want to give it away. The adventure is just beginning!
July 11, 12, 13, 14 at 1:00pm


The Little Star that Could
The Little Star that Could
features a story about Little Star, an average yellow star in search for planets of his own to protect and warm. Along the way, he meets other stars, learns what makes each star special, and discovers that stars combine to form star clusters and galaxies. Eventually, Little Star finds his planets. Each planet is introduced to your audiences with basic information about our Solar System.
July 18, 19, 20, 21 at 1:00pm


Earth, Moon, Sun
This show explores the relationship between the Earth, Moon and Sun with the help of Coyote, an amusing character adapted from Native American oral traditions who has many misconceptions about our home planet and its most familiar neighbors. His confusion about the universe makes viewers think about how the Earth, Moon and Sun work together as a system. Native American stories are used throughout the show to help distinguish between myths and science.
July 25, 26, 27, 28 at 1:00pm