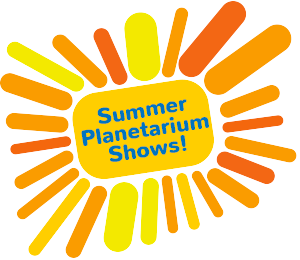 Each show features a thrilling full-immersion image on our 50-foot dome screen with surround sound, and includes the popular Spacepark 360 Virtual Rollercoaster.



---

Prices
$5.00 per Adult or Child, per program
Tickets are non-transferrable and non-refundable.
We will only be accepting e-tickets. There will be no tickets sold on-site.
Limited Seating. Pre-purchasing required (3 days in advance of show).
Buy Tickets
---
Schedule
June 7, 8, 9
1:00 Earth, Moon, Sun
2:30 Magic Globe

June 14, 15, 16
1:00 Magic Tree House: Space Mission
2:30 Take Flight

June 21, 22, 23
1:00 Zula Patrol: Under the Weather
2:30 Habitat Earth

June 28, 29, 30
1:00 Legends of the Night Sky: Orion
2:30 Astronaut

July 5, 6, 7
1:00 The Little Star that Could
2:30 Two Small Pieces of Glass

July 12, 13, 14
1:00 Dynamic Earth
2:30 One World, One Sky

July 19, 20, 21
1:00 Perfect Little Planet
2:30 Legends of the Night Sky: Perseus & Andromeda

July 26, 27, 28
1:00 Magic Globe
2:30 Magic Tree House: Space Mission
---
Show Descriptions 
Earth, Moon, Sun – This planetarium show explores the relationship between the Earth, Moon and Sun with the help of Coyote, an amusing character adapted from Native American oral traditions who has many misconceptions about our home planet and its most familiar neighbors.
His confusion about the universe makes viewers think about how the Earth, Moon and Sun work together as a system. Native American stories are used throughout the show to help distinguish between myths and science.

Magic Globe – On vacation at her grandpa's, a little girl Mia accidentally discovers a mysterious piece of astronomical machinery. Edmund, Mia's eccentric uncle, tricks the girl into using the tool's secret powers to change the world's seasons. She realizes the consequences of what they are going to do, but Edmund doesn't want to let the plan go.

Magic Tree House: Space Mission – Travel with the brother-sister duo, Jack and Annie, in their Magic Tree House as they discover a note that asks them to answer a series of six questions about space. With the help of the astronomer, the Internet, an astronaut, books and the writer of the mysterious note, Jack and Annie are taken on a wondrous journey of adventure and learning.
This exciting voyage will carry visitors to the planets and far out into the Universe where Jack and Annie nearly get… Well, we don't want to give it away. The adventure is just beginning!

Take Flight – Join uniquely-animated brothers Wilbur and Orville Wright for a full-throttle fulldome adventure through the history and into the future of aeronautics!
Learn about the four forces of flight — lift, weight, thrust and drag — with demonstrations by the Wright brothers and share observations and discoveries with Leonardo da Vinci as he creates his "flying machine." Along the way, you'll meet Bessie Coleman, the first woman of African American and Native American descent to earn an aviation pilot's license; break the sound barrier with Chuck Yeager; and take an exhilarating flight across the Atlantic Ocean with Amelia Earhart. Will you become a famous aviator? Take Flight could be your first step!

Zula Patrol: Under the Weather – The story: the stalwart heroes of the Zula Patrol are on an expedition collecting samples of weather for scientist Multo's research. When the Zula gang inadvertently hurts their loyal pet Gorga's feelings, he decides to leave Zula and find another planet to live on.
Villain Dark Truder then tricks Gorga into helping with his latest nefarious scheme to rule the Universe.
The Zula Patrollers find out and go after him – in the process learning all about weather, both terrestrial and interplanetary.

Habitat Earth – Living networks connect and support life forms large and small—from colonies of tiny microbes and populations of massive whales to ever-expanding human societies. In the California Academy of Sciences' latest original planetarium show, Habitat Earth, discover what it means to live in today's connected world. Through stunning visualizations of the natural world, dive below the ocean's surface to explore the dynamic relationships found in kelp forest ecosystems, travel beneath the forest floor to see how Earth's tallest trees rely on tiny fungi to survive, and journey to new heights to witness the intricate intersection between human and ecological networks.

Legends of the Night Sky: Orion – Legends of the Night Sky: Orion takes an imaginative look at the stories and legends about Orion, the great hunter of the winter sky.

Astronaut – The exploration of space is the greatest endeavour that humankind has ever undertaken. What does it take to be part of this incredible journey? What does it take to become an astronaut?
Experience a rocket launch from inside the body of an astronaut. Explore the amazing worlds of inner and outer space, from floating around the International Space Station to manoeuvring through microscopic regions of the human body.
Discover the perils that lurk in space as we subject 'Chad', our test astronaut, to everything that space has to throw at him.

The Little Star that Could – The Little Star That Could is a story about Little Star, an average yellow star in search for planets of his own to protect and warm. Along the way, he meets other stars, learns what makes each star special, and discovers that stars combine to form star clusters and galaxies.
Eventually, Little Star finds his planets. Each planet is introduced to your audiences with basic information about our Solar System.

Two Small Pieces of Glass – Two Small Pieces of Glass – The Amazing Telescope fulldome show follows two students as they interact with a female astronomer at a local star party.
Along the way, the students learn the history of the telescope from Galileo's modifications to a child's spyglass — using two small pieces of glass — to the launch of the NASA/ESA Hubble Space Telescope and the future of astronomy.

Dynamic Earth – In this highly engaging full-dome show, stunning satellite data visualizations and photorealistic animations are combined to provide unprecedented insights into the inner workings of Earth's dynamic climate system and the influence that the Earth-Sun system, plate tectonics, and the carbon cycle has upon its energy trails and environmental systems.

One World, One Sky – Elmo and Big Bird live in the United States and Hu Hu Zhu lives far away in China, but they discovered that they still see the same stars at night!
The word for star in Chinese is "xīng xing" (pronounced sing sing). How many "xīng xing" do you see in this sky?

Perfect Little Planet – Imagine the ultimate space vacation. Discover our solar system through a different set of eyes – a family from another star system seeking the perfect vacation spot. Fly over the surface of Pluto, our best known Dwarf Planet. Dive over the ice cliffs of Miranda.
Sail through the rings of Saturn. Feel the lightning storms at Jupiter. And walk on the surface of Mars. Which destination would you choose? This is the solar system journey for space travelers of all ages.

Legends of the Night Sky: Perseus & Andromeda – Perseus and Andromeda is a fun-filled retelling of the tale of the beautiful but unfortunate princess Andromeda, who in divine punishment for her mother's bragging, is sacrificed to a sea monster—and rescued by the Greek hero Perseus.
Buy Tickets